Seresto Flea and Tick Collar For Large Dogs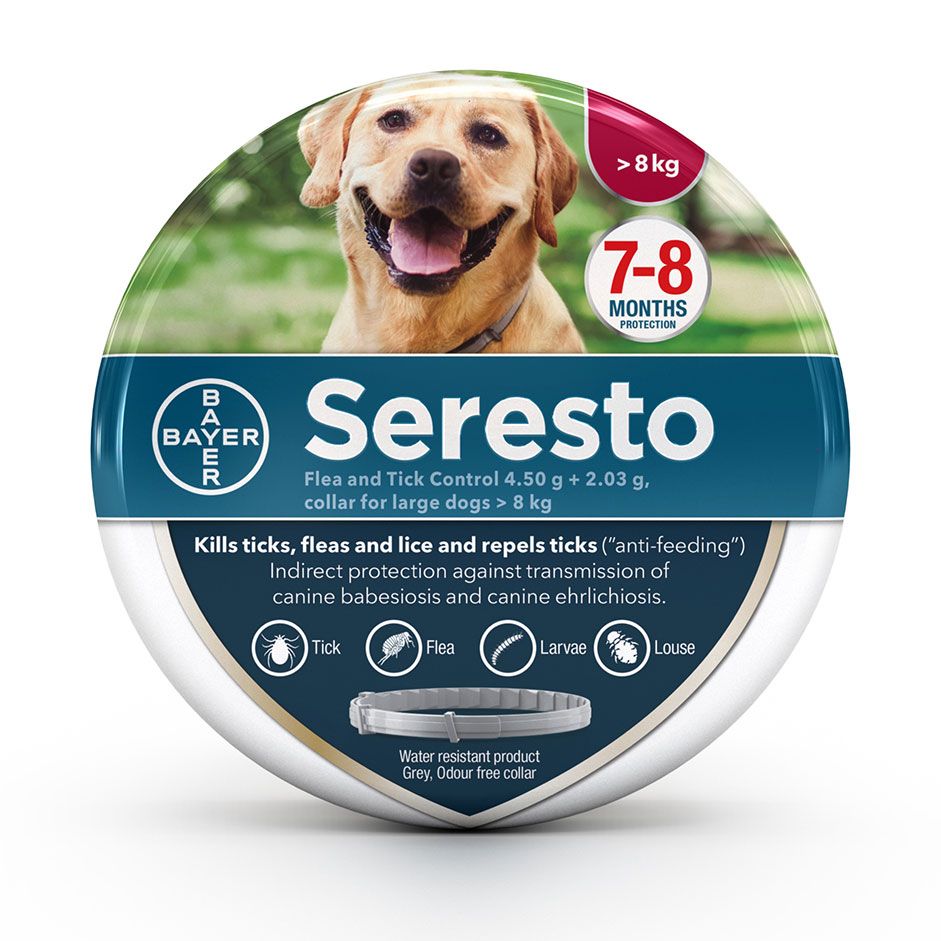 Seresto Flea and Tick Collar For Large Dogs
Seresto is an effective, reliable alternative to monthly flea and tick topicals. This dual-action collar repels and kills fleas & ticks for 8 consecutive months. If a flea or tick is repelled, it cannot attach and transmit disease-causing organisms. Seresto is a flea and tick collar for dogs and cats that uses exciting, innovative technology to release the active ingredients in controlled doses over an extended period of time. This means effective long-term flea and tick control without the inconvenience of monthly applications. Seresto protects your pet from fleas, flea eggs, flea larvae, ticks, as well as sarcoptic mange on dogs without odor or mess.

Made In Germany

---
---
100% Original
14 Days Return
Cash on delivery
---
For:
Dogs (7 weeks of age or older)
Benefits:
Begins working immediately after the collar is applied
Repels and kills fleas & ticks for 8 months, helping to prevent attachment and subsequent transmission of disease-causing organisms.
Kills fleas before they can lay eggs
Prevents tick infestations within 48 hours after application
Aids in the control of sarcoptic mange on dogs
Water-resistant and will continue to work even if wet or dirty
Odor-free compared to older-generation flea and tick collars
Non-greasy, odorless, convenient.
Safety release mechanism prevents strangulation if the collar becomes caught or tangled
Safe if chewed on by your dog or cat
Light reflectors for added visibility in the evening and at night
Available for Small Dogs weighing up to 18 lbs, Large Dogs weighing 18 lbs and over, and Cats of all weights
How does Seresto work?
The flea and tick collar releases the two active ingredients in low doses over an extended period of time. The ingredients are then absorbed through the fatty layer of your pet's skin and distributed throughout your pet's body to protect against fleas and ticks for eight months. Seresto can be worn alongside your pet's regular collar. No matter if you have a cat or a dog, the collars come with a ratchet release mechanism that releases when your pet is under pressure, which enables your pet to free himself or herself. It also has a pre-determined breaking point if your pet's head and neck get trapped, which allows your pet's strength to break the collar and get out of a dangerous situation.
Cautions when using Seresto:
The collar should not be used on puppies younger than seven weeks old or on kittens younger than ten weeks old. If ticks are present on your pet when the collar is applied, they will not die within the first forty-eight hours and should be removed manually. If your dog or cat shows any sign of skin irritation or other reaction to the collar, remove immediately and consult your veterinarian.
Do not allow children to play with collar or reflectors, or to put them in their mouths. Avoid contact with eyes, skin or clothing. Wash thoroughly with soap and water after fitting the collar. People with sensitivity reactions to the ingredients of the collar should avoid contact with the collar. Choking hazard. Contains small parts. Do not place reflectors in mouth. Not intended for use on humans.
Who makes Seresto?
Bayer
Active Ingredients:
Flumethrin (4.5%) and Imidacloprid (10.0%)
What are the potential side effects of Seresto?
Pets may experience some temporary irritation at the site of product application. If signs persist or become more severe within a few days of application, consult a veterinarian immediately.
What is Seresto used for:
Seresto is an effective alternative to topical flea and tick control. It is an innovative new flea and ticks collar that releases continuous active ingredients for 8 months, ensuring your pet is protected against harmful conditions that fleas and ticks can transmit. Seresto kills existing fleas on dogs in 24 hours, and reinfesting fleas within 2 hours with protection against further infestations lasting eight months. Ticks already on your pet prior to treatment may not be killed immediately and may remain visible and attached. The prevention of infestations with new ticks starts within 48 hours after application of the collar. Seresto kills lice on dogs for one month, and aids in the treatment and control of sarcoptic mange.
| | |
| --- | --- |
| Brand | Seresto |
| BREED SIZE | Large Breeds |
| LIFESTAGE | Adult Dog |