Canina V25 Vitamin 100 g (30 Tablets)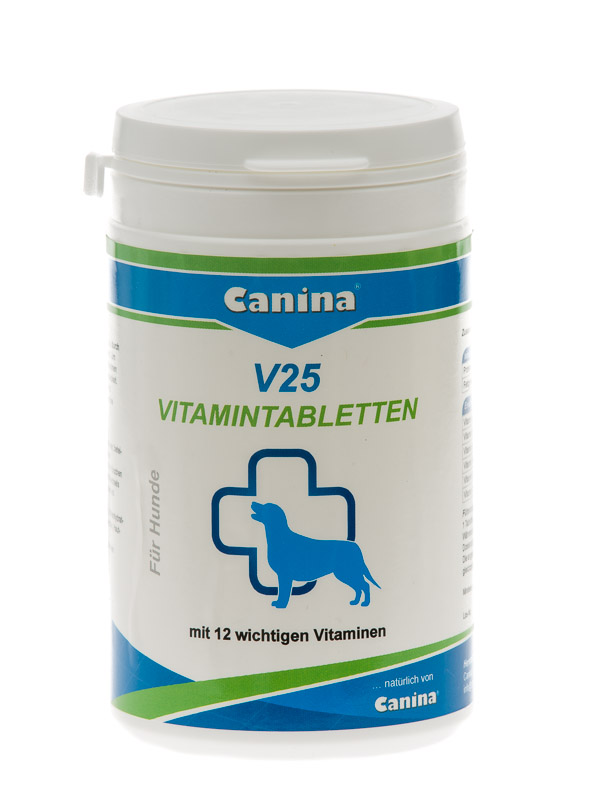 Canina V25 Vitamin 100 g (30 Tablets)
Description
- To compensate for feed-related nutritional deficits
- With 12 vital vitamins
- Supports blood formation, protein and lipid metabolismus and keeps the nerve system healthy
- Especially good for pregnant and lactating dogs, during growth and under all stress conditions
- Vitamin D is needed to make calcium accessible

Content: 700g / 210 tablets

Composition: Yeast, Dextrose

Ingredients: crude protein 21%, crude ash 5,6%, crude fat 1,5%

Additives per kg:
Vitamin A 440.000 IE, Vitamin D3 10.000 IE, Vitamin C 1.100mg, Vitamin E 440mg, Vitamin B1 44mg, Vitamin B2 110mg, Vitamin B6 44mg, Nikotinacidamid 660mg, Calcium-D-Pantothenat 220mg, Vitamin K3 44mg, Biotin 20.000mcg

Feeding recommendation per dog and day: One tablet each 10kg bodyweight, max. 3 tablets

-Made in Germany.
This product is no longer available.
---
---
100% Original
14 Days Return
Cash on delivery
---
- To compensate for feed-related nutritional deficits
- With 12 vital vitamins
- Supports blood formation, protein and lipid metabolismus and keeps the nerve system healthy
- Especially good for pregnant and lactating dogs, during growth and under all stress conditions
- Vitamin D is needed to make calcium accessible
Content: 100g / 200g / 700g
Composition: Yeast, Dextrose
Ingredients: crude protein 21%, crude ash 5,6%%, crude fat 1,5%
Additives per kg: Vitamin A 440.000 IE, Vitamin D3 10.000 IE, Vitamin C 1.100mg, Vitamin E 440mg, Vitamin B1 44mg, Vitamin B2 110mg, Vitamin B6 44mg, Nikotinacidamid 660mg, Calcium-D-Pantothenat 220mg, Vitamin K3 44mg, Biotin 20.000mcg
Feeding recommendation per dog and day: One tablet each 10kg Bodyweight, max. 3 tablets
Brand

Canina

BREED SIZE

Small Breeds

,

Medium Breeds

,

Large Breeds

,

X Large Breeds

LIFESTAGE

Adult Dog

,

Puppy