Keke Party Fiesta Crock & Snack Cat Dry Food 1.5 Kg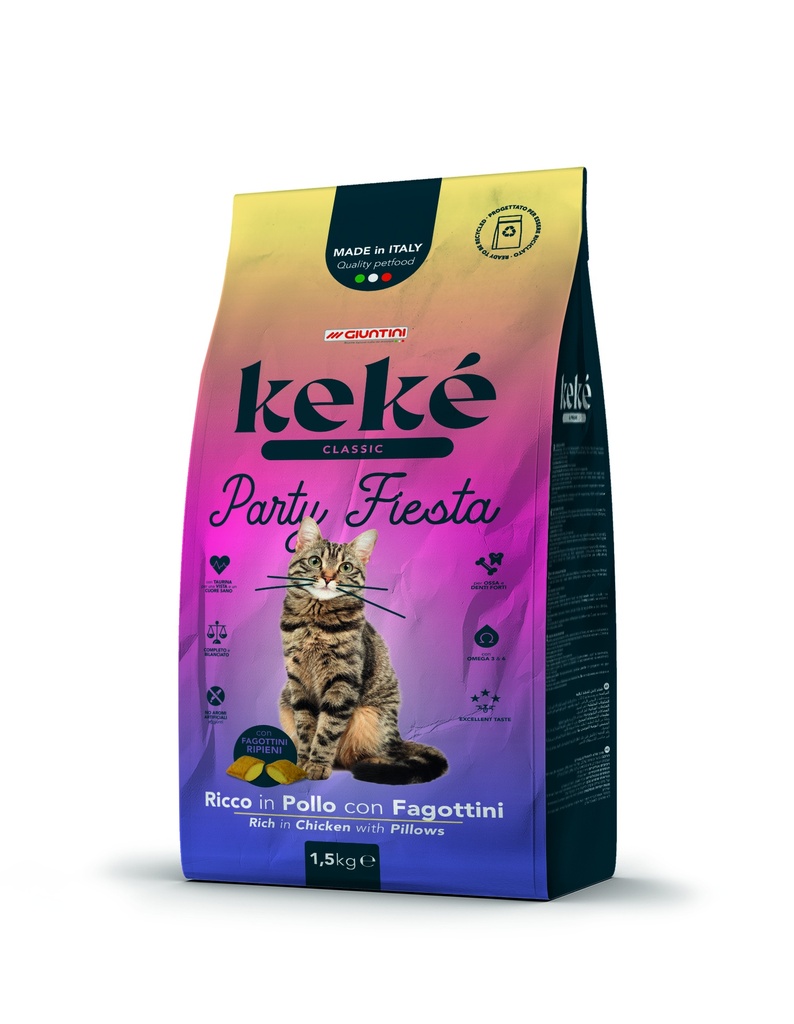 Keke Party Fiesta Crock & Snack Cat Dry Food 1.5 Kg
Kekè Party Fiesta
Complete food for cats
with Fagottini filled with fresh cheese
Kekè Party Fiesta is the perfect food for the cat with a difficult appetite.
It is rich in chicken to ensure all the proteins and digestibility it needs with a truly irresistible taste, and is enriched with special bundles filled with fresh cheese to stimulate its appetite.

The bundles are integrated with a special insoluble fiber that helps to maintain proper oral hygiene while enjoying its appetizing meal.
Kekè party fiesta: a complete food, as tasty as a snack.

Composition
Cereals, Meats and derivatives (Less than 18% chicken), Extracts of vegetable proteins, Oils and fats, Seeds, By-products of vegetable origin (Raw fiber concentrated from natural lignocellulose 1% in cheese wrappers), Mineral substances, Milk and derivatives ( 1% min. Fresh cheese in cheese wrappers).

Analytical components
Crude protein: 30.0%; Raw oils and fats: 11.0%; Crude fiber: 2.3%; Crude ash: 7.9%; Methionine: 0.6%; Lysine: 1.3%; Taurine: 750 mg / kg; Football: 1.4%; Phosphorus: 1.0%; Sodium: 0.4%; Fatty acids (Omega 3: 0.45% and Omega 6: 3.3%).

Nutritional additives
Vitamin A: 22,000 IU / kg; Vitamin D3: 1,000 IU / kg; Vitamin E: 130 mg / kg; E2 Iodine: 0.5 mg / kg; E6 Zinc: 11.6 mg / kg.
100% Original
14 Days Return
Cash on delivery
---