Revolution for dogs 20-40kg (Single Dose)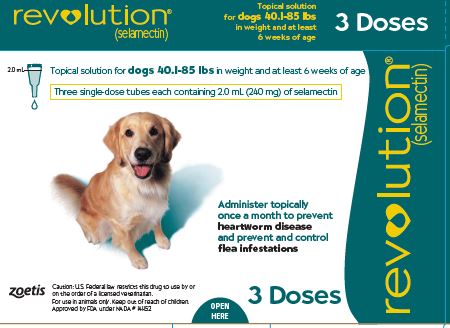 Revolution for dogs 20-40kg (Single Dose)
Revolution for dogs 20-40kg (Single Dose)

    Topical, once-a-month parasiticide made especially for dogs. Provides systemic treatment against a broad spectrum of external and internal parasites.


Package contains 3 doses and the price is for 1 dose only
تحتوى العلبه على 3 امبولات
والسعر للامبول الواحد فقط

Made In U.K
---
---
100% Original
14 Days Return
Cash on delivery
---
Revolution for dogs 20-40kg
(Single Dose)
Description
Topical, once-a-month parasiticide for dogs.
Provides systemic treatment against a broad spectrum of external and internal parasites.
Approved Uses
Revolution® (selamectin) is indicated for use in dogs 6 weeks of age or older against the following parasites ( see separate page for cat indications):
Fleas: for the treatment, control and prevention of flea (Ctenocephalides spp) infestations and control of flea allergy dermatitis. Adult fleas are killed for one month following administration of Revolution® according to the recommended dosing schedule. Additionally, flea eggs exposed to Revolution® are not viable and flea larvae in the treated animal's surroundings are killed or prevented from developing to adults.
Heartworm: prevention of heartworm disease caused by Dirofilaria immitis.
Sarcoptic Mange: treatment and control of sarcoptic mange (Sarcoptes scabiei).
Ear mites: treatment and control of ear mite (Otodectes cynotis) infestations.
Key Features
Broad-spectrum protection against internal and external parasites.
Excellent safety profile:

Revolution® is unscheduled and is not a pesticide or poison
Demonstrated to be well tolerated in over 100 different pure and mixed dog breeds
Can be used in puppies from 6 weeks of age
May be used in breeding, pregnant and lactating bitches
No adverse effects noted when used in heartworm positive dogs

Kills adult fleas, prevents flea eggs from hatching and either kills or prevents the development of flea larvae into pupae
Reduces the signs of flea allergic dermatitis without the need for supplementary environmental flea control measures.
Convenient, easy to apply monthly application.
Non-greasy, quick-drying preparation.
Waterfast only 2 hours after application.
Available in 5 convenient dosage sizes for dogs in non-drip disposable tubes.
Packaging
 Available in 5 separate dose strengths for dogs of different weights (see Dosage and Administration). 
Revolution® for puppies and kittens (15mg selamectin / tube) is available in cartons containing 3 or 15 single-dose tubes. Each tube will treat puppy of up to 2.5kg.
Revolution® for dogs is available in cartons containing 3 or 6 single-dose tubes.
Revolution® is also available for cats.
Dosage/Administration
Hold tube upright.
Press cap down until a click is heard (cap punctures applicator seal).
Remove cap and check to be sure tip of tube is open.
Part hair at base of neck and place tip of tube on visible skin area.
Squeeze tube 3 or 4 times in one spot until empty. Keep tube squeezed to avoid drawing liquid back into tube. While keeping tube squeezed, drag it away from liquid and lift up to remove.
Ensure tube is empty.
The recommended dose is 6 mg selamectin/kg of body weight. For dogs greater than 40kg, the appropriate combination of tubes should be used.
Additional Information
While the number of circulating D.immitis microfilariae may decrease following treatment, Revolution® is not effective against adult D. immitis.

Do not use in sick, debilitated or underweight animals.

In humans, may be irritating to eyes – contact should therefore be avoided.
Flammable. Keep away from heat, sparks or open flame.
Keep out of reach of children.
| | |
| --- | --- |
| Brand | Revolution |
| BREED SIZE | Large Breeds |
| LIFESTAGE | Adult Dog |