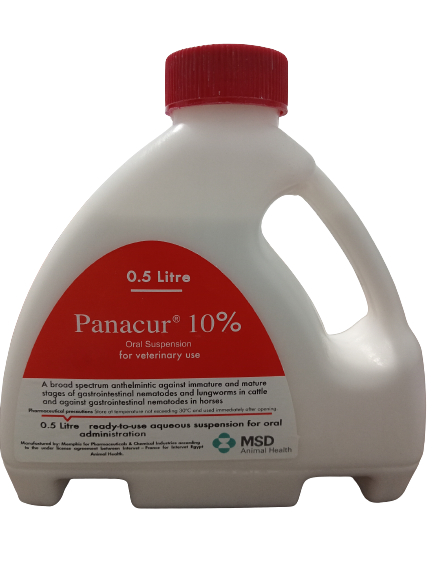 Panacur 10% 0.5 L
Panacur 10%
- Oral Suspension for veterinary use.
- A broad spectrum anthelmintic against immature and mature stages of gastrointestinal nematodes and lungworms in cattle and against gastrointestinal nematodes in horses.
- Pharmaceutical precautions Store at temperature not exceeding 30°C and used immediately after opening.
- 0.5 Litre ready-to-use aqueous suspension for oral administration

Composition
Each 1 ml contains: Fenbendazole 100 mg

Properties: Fenbendazole is an anthelmintic belonging to the benzimidazole
- carbamate group. It acts by interfering with the energy metabolism of the nematode. The anthelmintic affects both adult and immature stages of gastro-intestinal and respiratory nematodes. This anthelmintic efficacy is based on inhibition of the polymerization of tubulin to microtubuli.

Indications: For the treatment of immature and mature stages of nematodes of the gastro-intestinal and respiratory tracts of cattle, horses. With an avicidal effect on roundworm eggs. Also effective against cestodes in cattle.

Cattle: Haemonchus spp., Ostertagia spp. Trichostrongylus spp. Cooperia spp., Nematodirus spp.

Bunostomum spp., Strongyloides spp., Oesophagostomum spp.. Dictyocaulus spp. and
Moniezia spp. (tape worm).

Horses: Large and small Stongyles, Oxyurids, Strongyloides spp., Parascaris eqorum
and Dictyocaulus arnfieldi.

Target Species: Cattle and horses

Dosage and administration: Routine dosage for cattle and horses is 7.5 mg FBZ/kg body weight. corresponding to 7.5 ml per 100 kg body weight. Diarrhea caused by Strongyloides westeri in sucking foals should be treated with a dose of 50 mg FBZ/kg body weight. The suspension should be shaken well before use and is ready for use without further dilution. It can be administered by any standard dosing gun or drenching equipment to horses and cattle.
100% Original
14 Days Return
Cash on delivery
---