Royal Canin Gastro Intestinal Dry Dog Food 2kg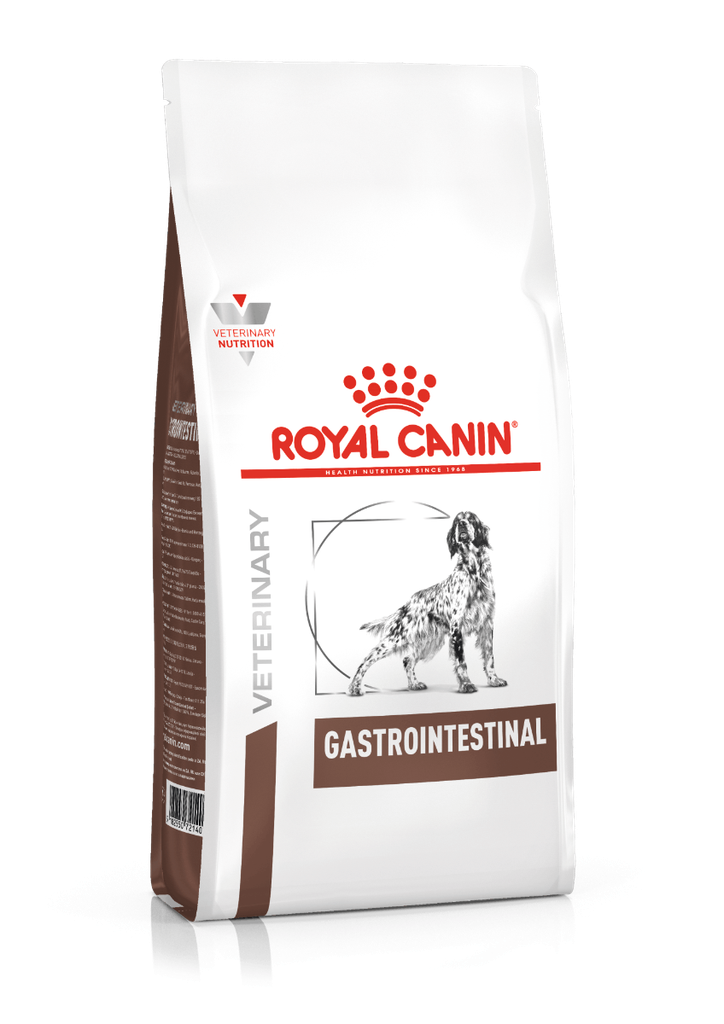 Royal Canin Gastro Intestinal Dry Dog Food 2kg
Royal Canin Gastro Intestinal Dry Food 2kgA complete dietetic dry food formulated to reduce intestinal disorders. Easy to digest, high energy food with increased electrolytes and essential nutrients.
This product is no longer available.
---
---
100% Original
14 Days Return
Cash on delivery
---
Royal Canin Gastro Intestinal Dry Food 2kg
Feeding the correct diet is crucial for pets with digestive tract disorders. Fermentable fibres (beet pulp, FOS) keep your dog's digestive system working well and at the same time they also provide food for the micro flora which helps to keep the gut flora healthy. Mannan-oligosaccharides (MOS) stimulate and help the intestinal immune system (IgA) to neutralise pathogenic bacteria.

Please make sure that your pet always has fresh drinking water available.

Indications:
Anorexia
Chronic and acute diarrhoea
Dysbacteria
Inflammatory bowel disease (IBD)
Exocrine pancreatic insufficiency (EPI)
Gastritis
Colitis
Malabsorption
Convalescence
Maldigestion
Contraindications :
Illnesses which require weight loss
Hepatic encephalopathy
Hyperlipidaemia
Lymphangiectasia
Pancreatitis
Key benefits :
Easy to digest: Highly digestible ingredients compensate for decreased enzymatic activity, ensuring optimal intake of nutrients.
Food with a high energy content allows a reduction in the size of your pet's meal and decreases the intestinal load. Fermentable fibres (FOS) support a balanced gut flora.
Well accepted : Dogs with digestive tract disorders often suffer from a lack of appetite and weight loss. The exceptional palatability of Royal Canin Veterinary Diet - Gastro Intestinal GI 25 encourages your dog to eat and puts it on the road to recovery.
EPA/DHA: Fatty acids to help maintain a healthy digestive system and a healthy skin. Eicosapentaenoic acid (EPA) and docosahexaenoic acid (DHA) are long-chain omega-3 fatty acids which can help to reduce inflammatory skin reactions.
Changing your pet's diet and length of treatment:
The length of treatment will depend on your pet's gastro-intestinal symptoms. If the symptoms are chronic your dog might need life-long follow up care and diet. Dogs which have a tendency to obesity should switch to GASTO INTESTINA MODERATE CALORIE for long-term feeding. The daily amount should be split into several smaller meals to aid digestive function.

Further information:

Fermentable fibre (beet pulp, FOS) support and restore the colonic ecosystem. Mannan-Oligo-Saccharides (MOS) stimulate the digestive immune system (IgA).
Ingredients:
Rice, poultry meal, animal fats, corn, animal protein (hydrolysed), yeast, powdered egg, beet pulp, soya oil, minerals, vegetable fibre, fish oil, fructo-oligo-saccharides, psyllium (husks and seeds), yeast hydrolysate (source of mannan-oligosaccharides), marigold meal
Additives (per kg): Vitamin A: 11400 IU, Vitamin D3: 1000 IU, E1 (iron): 42 mg, E2 (iodine): 3.3 mg, E4 (copper): 8 mg, E5 (manganese): 55 mg, E6 (zinc) 181 mg – preservatives - antioxidants
Feeding recommendation (g/day)
| | | | |
| --- | --- | --- | --- |
| Dog's weight | Lean | Normal | Overweight |
| 2 kg | 65 g | 55 g | 40 g |
| 4 kg | 110 g | 90 g | 65 g |
| 6 kg | 145 g | 115 g | 90 g |
| 8 kg | 180 g | 145 g | 110 g |
| 10 kg | 215 g | 170 g | 130 g |
| 15 kg | 285 g | 230 g | 170 g |
| 20 kg | 355 g | 285 g | 210 g |
| 25 kg | 415 g | 335 g | 250 g |
| 30 kg | 475 g | 380 g | 285 g |
| 35 kg | 530 g | 425 g | 320 g |
| 40 kg | 585 g | 470 g | 350 g |
| 50 kg | 690 g | 550 g | 415 g |
| 60 kg | 790 g | 630 g | 475 g |
| 70 kg | 880 g | 705 g | 530 g |
| 80 kg | 970 g | 780 g | 585 g |
Analytical Constituents
| | |
| --- | --- |
| protein | 25.0 % |
| fat | 20.0 % |
| fibre | 1.8 % |
| ash | 6.9 % |
| calcium | 1.16 % |
| phosphorus | 1.01 % |
| magnesium | 0.1 % |
| arachicdonic acid | 0.09 % |
| biotine (vitamin H) | 1.16 mg |
| chloride | 0.55 % |
| choline | 1600.0 mg |
| iron | 189.0 mg |
| moisture | 8.0 % |
| folic acid | 1.1 mg |
| iodine | 3.3 mg |
| potassium | 0.7 % |
| copper | 21.0 mg |
| linoleic acid | 3.46 % |
| manganese | 71.0 mg |
| sodium | 0.4 % |
| niacin (vitamin- B3) | 17.0 mg |
| omega-3 fats | 0.72 % |
| omega-6 fats | 3.66 % |
| pantothenic acid | 28.6 mg |
| selenium | 0.17 mg |
| starch | 33.6 % |
| taurine | 2100.0 % |
| zinc | 228.0 mg |
| vitamin A | 19000.0 IU |
| vitamin B1 (thiamine) | 8.5 mg |
| vitamin B12 (cobalamin) | 0.09 mg |
| vitamin B2 (riboflavin) | 4.3 mg |
| vitamin B6 (pyridoxine) | 9.2 mg |
| vitamin C (ascorbic acid) | 300.0 mg |
| vitamin D3 | 1000.0 mg |
| vitamin E (tocopherol) | 600.0 mg |
| calories that can be burned | 4159.0 kcal |
| dietary fibre | 6.5 % |
| DHA fatty acid | 0.31 % |
| lutein | 5.0 mg |
| arginine | 1.68 % |
| L-lysine | 1.33 % |
| DL-methionine | 0.67 % |
| methionine/cystine | 1.02 % |
| nitrogen-free extracts | 38.3 mg |