Royal Canin Renal Dry Cat Food 2kg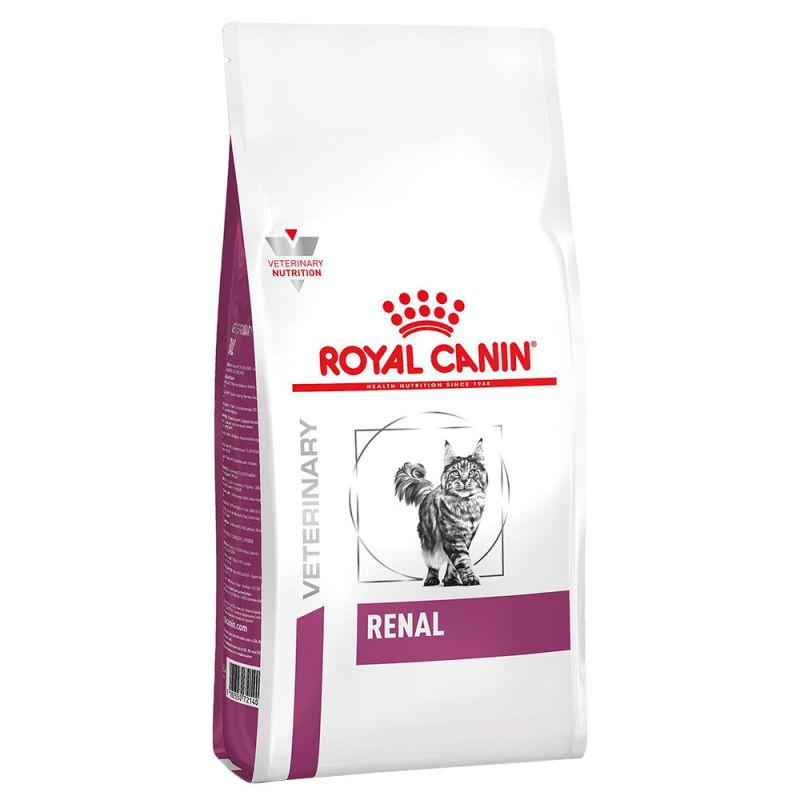 Royal Canin Renal Dry Cat Food 2kg
Royal Canin Renal Dry Cat Food 2 KG

RENAL is a complete dietetic feed for adult cats formulated:
- to support renal function in the case of chronic or temporary renal insufficiency, through its low level of phosphorus and high quality protein.
- to reduce oxalate stone formation, through its low level of calcium and vitamin D, and its urine alkalising properties.

Recommeded for (indications):
Chronic kidney disease (CKD)
Management of calcium oxalate urolith recurrence in cats with impaired renal function
Prevantion of recurrence of urolithiasis requiring urine alkalinisation: urate and cysteine uroliths

Not recommended for (contraindications):
Pregnancy, lactation, growth

Feeding Advice:
It is recommended that a veterinarian's opinion be sought before use or before extending the period of use. Initially feed

RENAL for up to 6 months in cases of chronic renal insufficiency and reduction of oxalate stone formation. For cases of temporary renal insufficiency a period of 2 to 4 weeks feeding is recommended.
This product is no longer available.
---
---
100% Original
14 Days Return
Cash on delivery
---
Royal Canin Renal Dry Cat Food 2kg
Ingredients
COMPOSITION: maize flour, rice, animal fats, wheat gluten*, soy protein isolate*, vegetable fibres, maize, maize gluten, hydrolysed animal proteins, minerals, chicory pulp, dehydrated poultry protein, fish oil, soya oil, fructo-oligo-saccharides, psyllium husks and seeds, marigold extract (source of lutein).
ADDITIVES (per kg): Nutritional additives: Vitamin A: 20800 IU, Vitamin D3: 800 IU, E1 (Iron): 48 mg, E2 (Iodine): 4.8 mg, E4 (Copper): 15 mg, E5 (Manganese): 62 mg, E6 (Zinc): 187 mg - Technological additives: Clinoptilolite of sedimentary origin:10 g - Preservatives - Antioxidants.
ANALYTICAL CONSTITUENTS: Protein: 23% - Fat content: 17% - Crude ash: 5.7% - Crude fiber: 4.7% - Calcium: 0.6% - Phosphorus: 0.3% - Potassium: 0.9% - Sodium: 0.4% - Magnesium: 0.07% - Chloride: 0.99% - Sulphur: 0.4% - Vitamin D (total): 800 IU/kg - Hydroxyproline: 0% - Essential Fatty acids: 3.2% - EPA and DHA: 0.42%. Urine alkalinising substances: Potassium citrate - Calcium carbonate. *L.I.P.: protein selected for its very high assimilation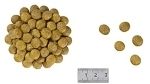 Benefits:
  CKD dietary management Formulated to support renal function in case of chronic kidney disease. Contains EPA and DHA, a complex of antioxidants and a low phosphorus level. During CKD, phosphorus is no longer eliminated effectively by the kidneys. A restriction in phosphorus intake is essential to slow down the development of renal disease. Feeding a diet with an adapted fish oil (source of EPA/DHA) content may help to improve the glomerular filtration rate.
Reduces renal workload
Increased kidney workload may induce uremic crisis. An adapted content of high quality protein helps reduce kidney workload. Feeding protein well in excess of the minimum requirements leads to the generation of nitrogen waste products, which accumulate in body fluids when renal excretory capacities are reduced.
Metabolic equilibrium
Chronic kidney disease can lead to metabolic acidosis. Formulated with alkalinizing agents. The kidneys are central to the maintenance of acid base balance. As renal function declines, the capacity to excrete hydrogen ions and reabsorb bicarbonate ions is reduced and metabolic acidosis ensues.
Appetite preference
The specifically designed aromatic profile helps to meet the cat's specific preference. Appetite issues, including food aversion, anorexia and hyporexia are common in cats with CKD.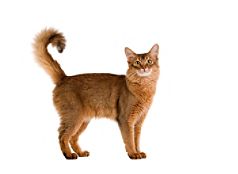 Feeding guide
Recommended daily quantities (g/day):
Water should be available at all times
Cat's Weight     LEAN    NORMAL    OVERWEIGHT          
                       (g) cup       (g)cup           (g) cup
2 kg           39g 3/8 cup   32g  3/8 cup    
3 kg           52g 4/8 cup   43g  4/8 cup 
4 kg           64g 5/8 cup   53g  4/8 cup    42g   4/8 cup
5 kg           74g 6/8 cup   62g  5/8 cup    50g   4/8 cup
6 kg           85g 7/8 cup   71g  6/8 cup    56g   5/8 cup
7 kg           95g 1 cup      79g  7/8 cup    63g   5/8 cup
8 kg   104g 1 cup + 1/8 cup 87g 7/8 cup 69g   6/8 cup
9 kg   113g 1 cup + 1/8 cup 94g  1 cup   75g    6/8 cup
10 kg 122g 1cup + 2/8cup 102g 1cup + 1/8cup 81g     7/8 cup