Royal Canin Gastro Intestinal Low Fat Dog Food 1.5kg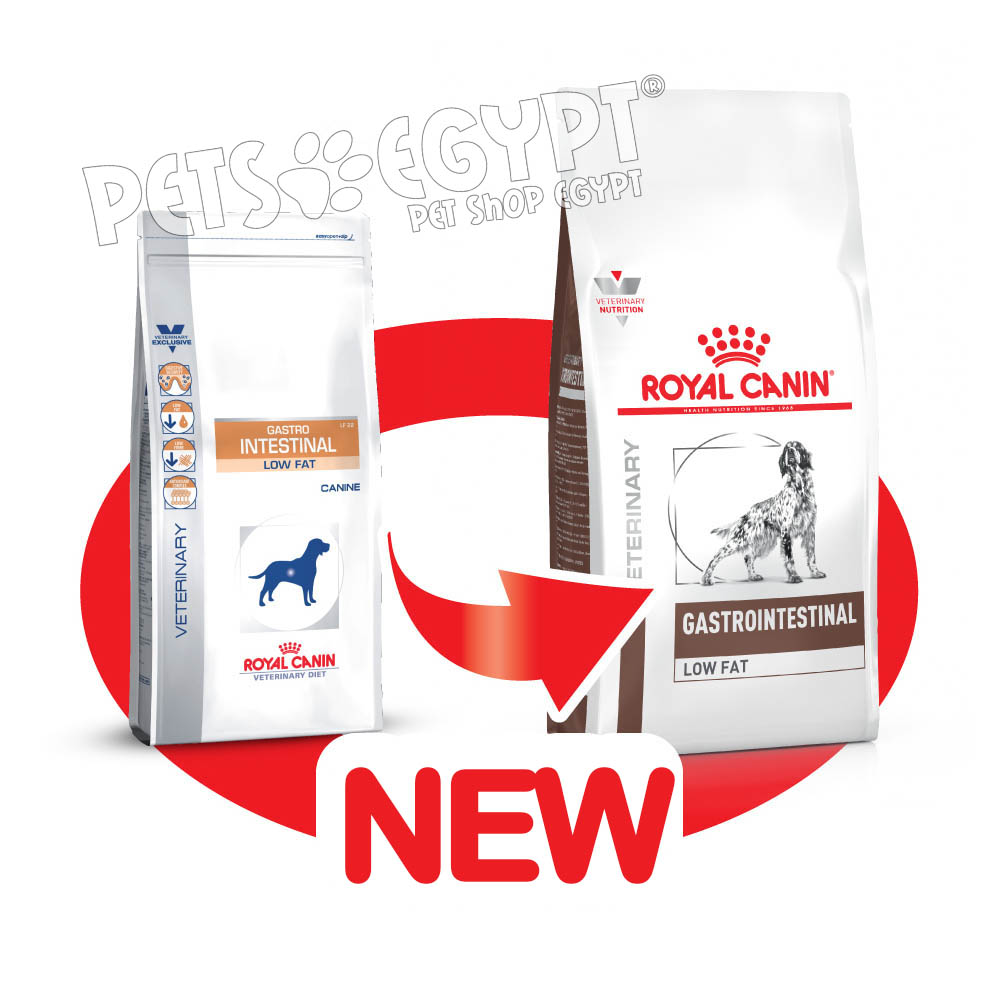 Royal Canin Gastro Intestinal Low Fat Dog Food 1.5kg
Royal Canin Gastro Intestinal Low Fat Dog Food 1.5 KG

Gastro Intestinal Low Fat is a complete diet for the nutritional management of dogs that require a very low fat, highly digestible diet.
 
Recommended for (indications):
Acute and chronic diarrhoea
Acute and chronic pancreatitis
Hyperlipidaemia
Lymphangiectasia – exudative enteropathy
Bacterial overgrowth
Exocrine pancreatic insufficiency

Not recommended for (contraindications): 
Pregnancy
Lactation
This product is no longer available.
---
---
100% Original
14 Days Return
Cash on delivery
---

Royal Canin Gastro Intestinal Low Fat Dog Food 1.5kg
Benefits
 HEALTHY DIGESTION Helps maintain a healthy digestive system through the combination of fermentable fibres (beet pulp and FOS) with specific minerals. 
LOW FAT
A low fat content improves digestive function in dogs with conditions such as pancreatitis.
LOW FIBRE
A low level of fibre helps to ensure optimal nutrient absorption.
ANTIOXIDANT COMPLEX
The patented exlclusive antioxidant complex helps fight free radicals, maintain healthy DNA and promotes a healthy immune system. 
Ingredients
COMPOSITION: rice, dehydrated poultry meat, wheat, barley, hydrolysed animal proteins, beet pulp, yeasts, animal fats, minerals, fructo-oligo-saccharides, psyllium husks and seeds, fish oil, hydrolysed yeast (source of manno-oligo-saccharides), marigold extract (source of lutein).
ADDITIVES (per kg): Nutritional additives: Vitamin A: 11700 IU, Vitamin D3: 1000 IU, E1 (Iron): 43 mg, E2 (Iodine): 3.4 mg, E4 (Copper): 9 mg, E5 (Manganese): 57 mg, E6 (Zinc): 186 mg, E8 (Selenium): 0.08 mg - Preservatives - Antioxidants.
ANALYTICAL CONSTITUENTS: Protein: 22% - Fat content: 7% - Crude ash: 6.6% - Crude fibres: 1.7% - Per kg: Essential fatty acids: 14 g - Omega 3 fatty acids: 2.5 g.
Feeding Guide
Recommended daily quantities (g/day):
Water should be available at all times
It is recommended to divide the daily intake into 2 meals
| Dog's weight | Lean | | Normal | | Overweight | |
| --- | --- | --- | --- | --- | --- | --- |
| 2 kg | 54 g | 6/8 cup | 46 g | 5/8 cup | 39 g | 4/8 cup |
| 4 kg | 90 g | 1 + 1/8 cup | 78 g | 1 cup | 65 g | 7/8 cup |
| 6 kg | 122 g | 1 + 5/8 cup | 105 g | 1 + 3/8 cup | 89 g | 1 + 1/8 cup |
| 8 kg | 151 g | 2 cups | 131 g | 1 + 6/8 cup | 110 g | 1 + 3/8 cup |
| 10 kg | 179 g | 2 + 3/8 cup | 155 g | 2 cups | 130 g | 1 + 6/8 cup |
| 15 kg | 243 g | 3 + 1/8 cup | 210 g | 2 + 6/8 cup | 176 g | 2 + 2/8 cup |
| 20 kg | 301 g | 3 + 7/8 cup | 260 g | 3 + 3/8 cup | 219 g | 2 + 7/8 cup |
| 25 kg | 356 g | 4 + 5/8 cup | 307 g | 4 cups | 259 g | 3 + 3/8 cup |
| 30 kg | 408 g | 5 + 3/8 cup | 352 g | 4 + 5/8 cup | 297 g | 3 + 7/8 cup |
| 35 kg | 458 g | 6 cups | 396 g | 5 + 1/8 cup | 333 g | 4 + 3/8 cup |
| 40 kg | 506 g | 6 + 5/8 cup | 437 g | 5 + 6/8 cup | 368 g | 4 + 6/8 cup |
| 50 kg | 598 g | 7 + 6/8 cup | 517 g | 6 + 6/8 cup | 435 g | 5 + 5/8 cup |
| 60 kg | 686 g | 8 + 7/8 cup | 593 g | 7 + 6/8 cup | 499 g | 6 + 4/8 cup |
| 70 kg | 770 g | 10 cups | 665 g | 8 + 5/8 cup | 560 g | 7 + 2/8 cup |
| 80 kg | 851 g | 11 + 1/8 cup | 735 g | 9 + 5/8 cup | 619 g | 8 cups |