Royal Canin Persian Kitten Dry Food 2kg
Royal Canin Persian Kitten Dry Food 2kg
Key Features/Benefits:
• Healthy growth & long hair
• Digestive performance
• Immune system support

Persian kittens have typical breed characteristics that need to be taken into account when you choose its food. Your Persian kitten's wellbeing and growth deserves special attention, especially while its immune system is still developing.
ROYAL CANIN® Persian Kitten is formulated with the specific needs of your Persian kitten in mind. By giving them food with the very best nutritional support, you're giving them the healthiest start in life.
It's been noted by breeders that your Persian kitten's digestive system will develop gradually and remain immature for a while. That's why ROYAL CANIN® Persian Kitten is formulated with highly digestible protein that's of the highest quality. It also contains an adapted fibre content (including psyllium) and prebiotics to help support a good balance in the intestinal flora.
The type of kibble in ROYAL CANIN® Persian Kitten is designed with your Persian kitten's jaw and head shape in mind; its small, rectangular shape and soft texture makes it easy for it to successfully pick it up and chew. What's more, this specially formulated food includes a patented complex of antioxidants, including vitamin E, that help to support your kitten's natural defences.
---
---
100% Original
14 Days Return
Cash on delivery
inside Cairo
---
Royal Canin Persian Kitten 32 Dry Food 2kg
Royal Canin Persian Kitten
Is an exclusive formula containing highly digestible protein to limit the content of fermentable residue in the intestine.
Key Benefits:
Special Kibble Shape: A unique almond-shaped kibble, size and texture make this food easier for the Persian kittens to grasp.
Boosts Immune System: While your kitten's immune system is continuing to develop, it may still be sensitive to factors that may result in poor health. Certain vitamins and nutrients can help to support your kitten's young immune system.
Extra Strengthened Digestive Security: Persian kittens have sensitive digestive systems. Persian kitten 32 contains specialized nutrients that stimulate beneficial bacteria and block harmful bacteria in the digestive tract.
Made Specifically For: Persian kittens up to 12 months of age.
Ingredients:

Dehydrated poultry meat, rice, animal fats, maize, vegetable protein isolate L.I.P., hydrolysed animal proteins, vegetable fibres, beet pulp, yeasts, L-lysine, minerals, fish oil, soya oil, sodium phosphate, fructo-oligo-saccharides, psyllium husks and seeds, hydrolysed yeast (source of mannooligo- saccharides), DL-methionine, taurine, borage oil, marigold extract (source of lutein). *L.I.P.: protein selected for its very high assimilation.
Feeding Guidelines    
Age (months)     Weight in kg         Portion in g/day
    
1 month                 0.35 - 0.6          Babycat 34
2 months               0.8 - 1.2            Babycat 35
4 months               1.8 - 2.8            55 - 75
6 months                2.4 - 3.9           60 - 80
9 months                2.9 - 4.8           60 - 80
12 months              3 - 5                 60 - 80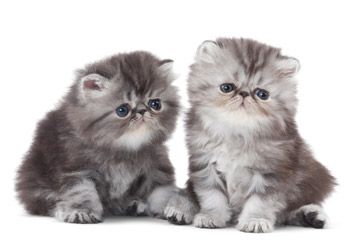 Guaranteed Analysis
| | |
| --- | --- |
| Arachidonic acid (%) | 0.1 |
| Ash (%) | 7.4 |
| Biotin (mg/kg) | 3.15 |
| Calcium (%) | 1.1 |
| Crude fibre (%) | 2.8 |
| Dietary fibre (%) | 8.0 |
| DL-methionine (%) | 0.75 |
| EPA/DHA (%) | 0.4 |
| [fat] (%) | 22.0 |
| Linoleic acid (%) | 4.52 |
| Lutein (mg/kg) | 5.0 |
| Metabolisable energy (calculated according to NRC85) (kcal/kg) | 4050.5 |
| Metabolisable energy (measured) (kcal/kg) | 4272.0 |
| Methionine Cystine (%) | 1.2 |
| Moisture (%) | 5.5 |
| Nitrogen-free extract (NFE) (%) | 30.3 |
| Omega 3 (%) | 0.89 |
| Omega 6 (%) | 4.82 |
| Phosphorus (%) | 0.99 |
| Protein (%) | 32.0 |
| Starch (%) | 25.1 |
| Taurine (mg/kg) | 3200.0 |
| Vitamin A (UI/kg) | 28000.0 |
| Vitamin C (mg/kg) | 300.0 |
| Vitamin E (mg/kg) | 600.0 |

Other nutrients
| | |
| --- | --- |
| Arginine (%)                                                          | 1.79 |
| L-lysine (%) |  2.44 |

Vitamins
| | |
| --- | --- |
| Choline (mg/kg) | 2500.0 |
| Folic acid (mg/kg)                                                | 14.0 |
| Vitamin B1 Thiamin (mg/kg) | 27.7 |
| Vitamin B12 Cyanocobalamin (mg/kg) | 0.14 |
| Vitamin B2 Riboflavin (mg/kg) | 49.9 |
| Vitamin B3 Niacin (mg/kg) | 490.0 |
| Vitamin B5 Pantothenic acid (mg/kg) | 148.7 |
| Vitamin B6 Pyridoxine (mg/kg) | 77.6 |
| Vitamin D3 (UI/kg) | 800.0 |

Minerals
| | |
| --- | --- |
| Chlorine (%) | 1.06 |
| Copper (mg/kg) | 16.0 |
| Iodine (mg/kg) |  2.9 |
| Iron (mg/kg) | 213.0 |
| Magnesium (%)                                                     | 0.09 |
| Manganese (mg/kg) | 68.0 |
| Potassium (%) | 0.7 |
| Selenium (mg/kg) | 0.21 |
| Sodium (%) | 0.6 |
| Zinc (mg/kg) | 247.0 |