Belcando Puppy Granula - Start 5 Kg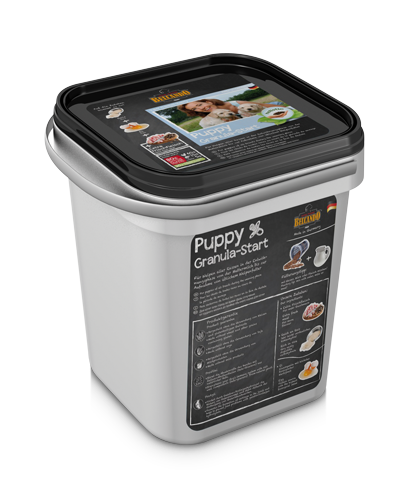 Belcando Puppy Granula - Start 5 Kg
product description
Feed for puppies
WE RECOMMEND for puppies from the beginning of weaning
Benefits of the feed can be consumed dry or heated with warm water and mixed on a slurry very convenient to facilitate the transition to granulated food helps digestion thanks to chia miniature size 0.2-0.4cm high quantity of energy in small volume reduces the amount of excrement and does not burden the digestive system with large volumes
Description of feed
At the request of many breeders of dogs whose puppies grow on Belcando, the German manufacturer BEWITAL GmbH now comes with a special product designed to first introduce puppies to a granulated diet. Belcando
Granula - Start is made by a special manufacturing process, resulting in granules of small size (0.2 - 0.4 cm). Feed Granula - Start you can mix with water and simply create a tasty mash or you can also mix it with meat. Later, you can also serve it dry. By adding different amounts of fluid, the breeder can easily individually influence whether to give puppies a slurry or, rather, a firmer consistency of granules. This speeds up the habit of fasting and facilitates a smooth transition to Belcando puppy - especially for small breeds.
Feeding composition low-fat poultry meat meal (24%); Rice (23%); maize; Herring meal (6%); Poultry fat; Vegetable oil (palm, coconut); Dried eggs (2.5%); Hydrolysed gelatin (2.5%); Brewer's yeast; Karob; Dried beet pulp; Hydrolysed poultry liver; Chia seeds; linseed; Calcium dihydrogen phosphate; sodium chloride; Potassium chloride
Analysis of protein feed 30%; Fat 18%; Ash 6,3%; Fiber 2%; Humidity 10%; Calcium 1.25%; Phosphorus 1%; Sodium 0,35%
Additives per kg: Nutritional additives: Vitamin A 17 000 MJ; Vitamin D3 1,750 MJ; Vitamin E 175 mg; Copper (as copper sulfate pentahydrate) 12.5 mg; Iron (such as ferrous sulfate) 200 mg; Manganese (as manganese dioxide) 40 mg; Zinc (as zinc oxide) 150 mg; Iodine (as potassium iodide) 2 mg; Selenium (as sodium selenite) 0.15 mg Technological additives: lecithin 4 400 mg; Natural extracts with high vitamin E content of 48 mg
Recommendation
Do not feed, dog must have fresh water, do not strain the dog physically for two hours after feeding. When switching to feed, take three days for half a dose of the new feed supplemented with the original feed, or switch over within a few days gradually. Store on impermeable substrate in dry and room temperature. Refer to packaging for the recommended consumption date.
WARNING for treats! There is nothing worse than feeding hypoallergenic "clean" high-nutrition granules and rewarding snacks where 7 dyes are needed to last for a minimum of 3 preservatives and to keep them Dog perceived as a taste-attractive mass consisting of flour flour mixed with four types of meat, it is necessary to have a strong chemical flavor and a dressing, or a high salt content.
Beware of the origin and composition of the marketplace. It is flooded with dried meat from Asia and you certainly know what to go for. The packaging of such products is usually not found by the manufacturer, only by the supplier. As soon as it has more than 10% humidity, it requires chemical preservation (a lot of pamphlets are currently being made so-called soft). Therefore, before the presence of chemistry, you may already warn this information. The second warning is the term "Additives authorized in the EU" (such a declaration is inconsistent with the Feed Act, as preservatives must be listed exhaustively). This term hides preservatives, and practically certainly these are potential carcinogens.
---
---
100% Original
14 Days Return
Cash on delivery
---
Brand

Belcando

BREED SIZE

Small Breeds

,

Medium Breeds

,

Large Breeds

,

X Large Breeds

LIFESTAGE

Puppy