Roxxen Shower Gel With Lavender Flavor 4 L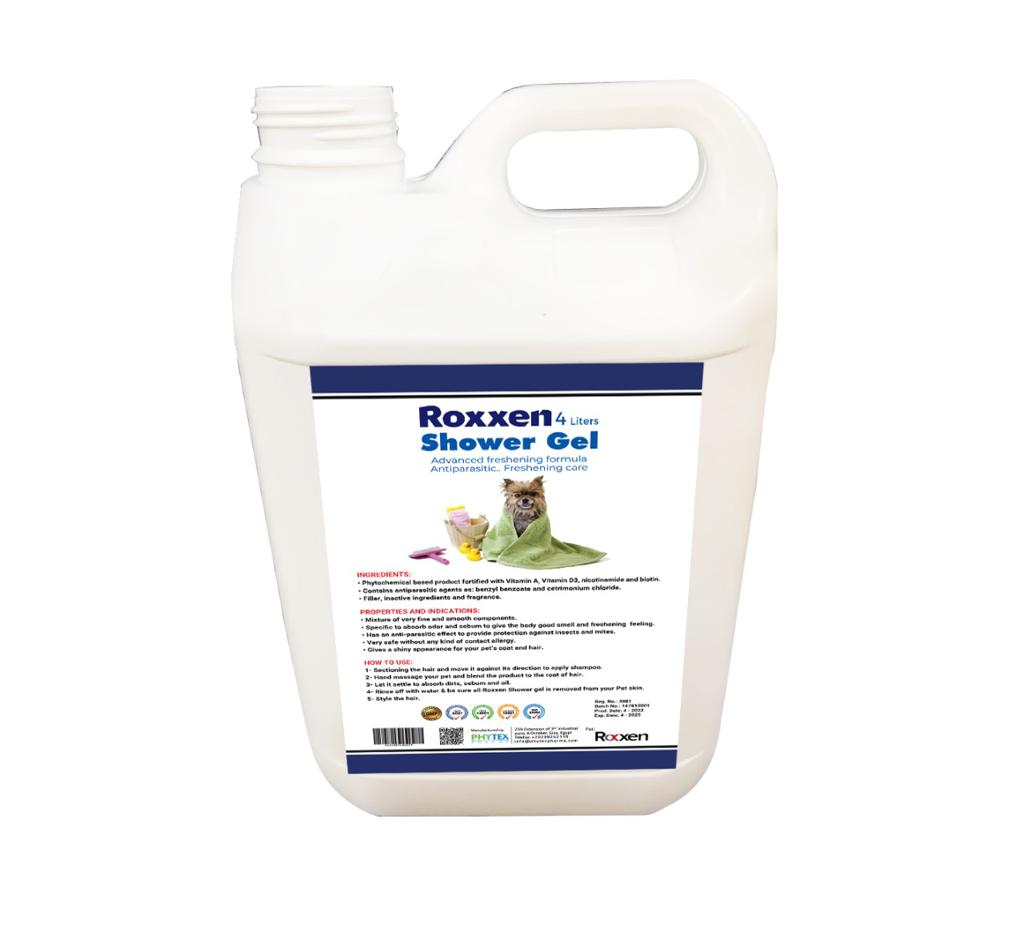 Roxxen Shower Gel With Lavender Flavor 4 L
Advanced Freshening Formula
Lavender Flavor
Antiparasitic & Freshening Care
5 in 1
- Promotes hair growth
- Kills mites, lice and fleas and relieves itching with its antiparasitic effect
- Has an antibacterial effect because it is a sterilized gel
- Removes odor with its fragrant ingredients
- Roxxen Shower Gel is more a treatment than just a cleaning gel due to its five combo powers.
The advanced freshening formula of Roxxen Shower Gel gives it four combo powers; with these effective ingredients:
- It promotes hair growth as a phytochemical and starch based product which contains vitamin E & zinc.
- It has an antiparasitic effect that kills mites, lice and fleas because of its antiparasitic agents as: benzyl benzoate & cetrimonium chloride.
- It has an antibacterial effect because it is a sterilized gel.
- It has inactive ingredients to give the gel its adorable fragrance

Properties and Indications:
• Mixture of very fine and smooth components.
• Specific to absorb odor and sebum to give the body good smell and freshening feeling.
• Anti-parasitic effect to provide protection against insects and mites.
• Very safe without any kind of contact allergy and also relieves itching.
• Giving a shiny appearance for your pet's coat and hair.

How to Use:
1- Section the hair and move it against its direction to apply shampoo.
2- Hand massage your pet and blend the product to the root of hair.
3- Let it settle to absorb dirts, sebum and oil.
4- Rinse off with water & be sure all Roxxen Shower
Gel is removed from your pet skin.
5- Style the hair.
This product is no longer available.
100% Original
14 Days Return
Cash on delivery
---