Royal Canin Cocker Spaniel Adult 3kg
Royal Canin Cocker Spaniel Adult 3kg
Key Features/Benefits:
• Healthy skin & coat
• Ideal weight
• Healthy cardiac function
Suitable for Cocker Spaniels over 12 months old, ROYAL CANIN® Cocker Adult is specially formulated with all the nutritional needs of your dog in mind.
To help maintain the health of your dog's skin and coat, ROYAL CANIN® Cocker Adult contains an exclusive complex of nutrients that helps to support the skin's barrier role. Enriched with borage oil, vitamin A, and Omega-3 fatty acids (EPA and DHA), this formula helps to keep your dog's coat nourished for optimal health.
The Cocker Spaniel breed has a tendency to willingly exceed its daily intake allowance if given the chance. That's why it's important to help your dog manage its weight and body type. ROYAL CANIN® Cocker Adult features an optimal formulation, including controlled fat contents, in order to allow a limited energy intake on a daily basis.
ROYAL CANIN® Cocker Adult's exclusive formula also helps to support your dog's cardiac health, thanks to a specific combination of nutrients that contribute to maintaining health of the cardiac muscle.
What's more, the shape and size of the kibble in ROYAL CANIN® Cocker Adult is tailor-made exclusively for the Cocker Spaniel breed. This formula contains calcium chelators, which help to slow down the formation and build-up of tartar – ultimately supporting your dog's dental hygiene.
---
---
100% Original
14 Days Return
Cash on delivery
inside Cairo
---
Royal Canin Cocker Spaniel Adult 3kg
The affection and sweet temper of cocker spaniels is well known. Who's heart hasn't been melted by the puppy dog eyes of a cocker spaniel? Your cocker spaniel has special nutritional needs due to the breed's unique characteristics:
A silky coat of fur and sensitive skin that need to be protected
Common ear infections, due to his/her sensitive skin
A natural tendency to gain weight that can often lead to joint problems
A tendency to lose healthy eyesight due to the breed's long life expectancy
High risk of a weak heart muscle
Royal Canin Cocker Spaniel Adult Dry Food was specially developed with the characteristics of cocker spaniel's 12 months or older in mind:
Skin Protection and Beautiful Coat: EPA & DHA strengthen the barrier function of your dog's skin and helps keep his/her ears healthy. Starflower oil highlights the beauty of your dog's coat
Ideal Weight: Royal Canin Breed Cocker Dog Food contains an appropriate fat content to help your cocker spaniel maintain an ideal weight. Plantago ovata soothes your dogs urge to eat, L-Carnitine increases the ability to burn fat
Maintain healthy eyesight: an antioxidant complex (lutein, Zeaxanthine, Vitamin E & C) help to maintain healthy eyesight
Heart Function: Royal Canin Breed Cocker Dog food with taurine and L-Carnitine support the contraction strength and energy supply of your dog's heart
Kibble: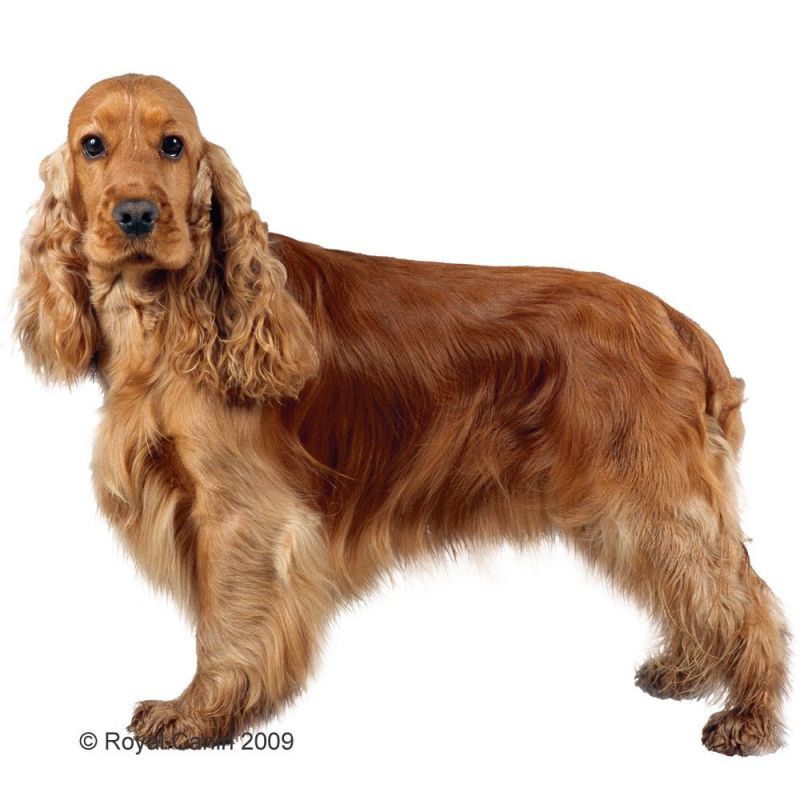 Royal Canin Cocker Spaniel Adult
Royal Canin Cocker Spaniel Adult
Ingredients:
Rice, corn, poultry protein (dried), corn gluten feed, animal fat, animal protein (hydrolyzed), vegetable protein isolate*, beet pulp, fish oil, minerals, psyllium (psyllium & shells), soya oil, fructo-oligo-saccharides, yeast hydrolyzate [source of mannan-oligosaccharides] borage oil (0.1%), grape seed and green tea [source of polyphenols], hydrolysed crustaceans [source of glucosamine], marigold [source of lutein], hydrolysed cartilage [source of chondroitin].
*L.I.P.: protein selected for its very high assimilation.
Additives:
Nutritional additives:
Vitamin A (30,900 IU/kg), vitamin D3 (800 IU/kg), E1 [iron] (49 mg/kg), E2 [iodine] (4.9 mg/kg), E4 [copper] (9 mg/kg), E5 [manganese] (64 mg/kg], E6 [zinc] (192 mg/kg), E8 [selenium] (0.11 mg/kg).
Technological Additives:
Pentasodium triphosphate (3.5 g/kg), preservatives, antioxidants.
Manufacturer's feeding recommendation in g/day per dog:
Royal Canin Breed Cocker Adult is a complete feed for dogs.
For mixing with water, please note the amount indicated on the feed bag.
| | | | |
| --- | --- | --- | --- |
| Dog's weight | Low activity | Normal activity | High activity |
| 10kg | 138 | 159 | 181 |
| 11kg | 148 | 171 | 194 |
| 12kg | 158 | 183 | 208 |
| 14kg | 177 | 205 | 233 |
| 16kg | 196 | 227 | 258 |
The amounts stated here are guidelines only and should be adapted to meet your dog's specific dietary needs.
---
Analytical Constituents
protein 25.0 % fat 14.0 % fibre 1.4 % ash 4.8 % calcium 0.74 % phosphorus 0.65 % magnesium 0.07 % arachicdonic acid 0.07 % biotine (vitamin H) 3.23 mg chloride 0.59 % choline 2.0 mg chondroitin sulfate and glucosamine 500.0 mg iron 144.0 mg moisture 9.5 % folic acid 14.3 mg aminoglucose 500.0 ml iodine 5.5 mg potassium 0.7 % copper 15.0 mg L-carnitine 400.0 mg linoleic acid 2.78 % manganese 76.0 mg sodium 0.4 % niacin (vitamin- B3) 507.1 mg omega-3 fats 0.72 % omega-6 fats 2.99 % pantothenic acid 152.5 mg plant fibers 6.6 % selenium 0.28 mg starch 40.3 % taurine 3.5 % zinc 225.0 mg vitamin A 32.0 IU vitamin B1 (thiamine) 28.4 mg vitamin B12 (cobalamin) 0.14 mg vitamin B2 (riboflavin) 51.0 mg vitamin B6 (pyridoxine) 79.6 mg vitamin C (ascorbic acid) 300.0 mg vitamin D3 800.0 IE/kg vitamin E (tocopherol) 600.0 mg calories that can be burned 3.91 kcal dietary fibre 6.4 % polyphenols 150.0 mg DHA fatty acid 0.4 % lutein 5.0 mg arginine 1.39 % L-lysine 0.94 % DL-methionine 0.48 % methionine/cystine 0.86 % nitrogen-free extracts 45.3 %
---