Royal Canin Sterilised +7 Cat Food (1.5 kg)
Royal Canin Sterilised +7 Cat Food (1.5 kg)
Key Features/Benefits:
• Vitality complex
• Weight management
• Renal health
• Urinary health
Although a complete and balanced diet is important for cats of all ages, there are particular nutrients that help to support optimal health for neutered cats of a certain age.
Suitable for neutered cats over 7 years old, ROYAL CANIN® Sterilised 7+ is specially formulated with all the nutritional needs of your adult cat in mind.
To help your neutered, adult cat face the first signs of ageing, ROYAL CANIN® Sterilised 7+ is enriched with targeted nutrients, including: green tea polyphenols, vitamin C, EPA and DHA. This vitality complex is highly beneficial for your cat and helps to support healthy body function.
ROYAL CANIN® Sterilised 7+ contains a moderate level of fat. Adequate daily rations of this food helps your adult cat to limit excess weight gain.
ROYAL CANIN® Sterilised 7+ has a specially adapted phosphorus level – this helps to support your cat's renal health by helping to maintain healthy kidney function.
What's more, ROYAL CANIN® Sterilised 7+ is also specifically formulated to help maintain the health of your adult cat's urinary system.
This product is no longer available.
---
---
100% Original
14 Days Return
Cash on delivery
---
Royal Canin Sterilised +7 (1.5 kg)
Your cat's metabolism before sterilisation is able to cope with a constant supply of energy and it would only eat only as much as is necessary to meet its energy demands. After the sterilisation however, your cat's body loses the ability to regulate and it frequently eats more than it needs, which can lead to weight gain. Older cats may also have age related issues such as less activity or renal problems.
As soon as 48 hours after sterilisation has taken place, your cat's ingestion can rise by 20% while energy demand may decline by 30%. A reduction in carbohydrates can lead to a rise in blood sugar which prevents your cat from feeling hungry again too quickly. Bladder stones can occur in sterilised cats, especially if they are overweight, because they drink less and produce less urine. A balanced mineral content keeps the pH value of the urine low and helps to keep the urinary tract healthy. An increased protein content can boost and preserve muscle mass.
Royal Canin Sterilised 37 cat food was specially developed for sterilised cats with a tendency to weight gain:
The aging process: is made easier by ingredients in this recipe and your cat is able to grow old gracefully and with fewer problems
Controlled energy supply: through reduced fat contents (12%)
Fewer carbohydrates: e.g. no starch which stimulates hunger pangs
L-Carnitine: (100 mg/ kg) helps to mobilise fat reserves
Promotes healthy urinary tract: through balanced pH-levels in the urine (pH 6-6,5) and a balanced phosphorus content
Boosts and preserves muscles: through high protein contents (36%)
For more than 40 years Royal Canin has made your pet's health the prime focus of their work. This has led to the product range "Health Nutrition" amongst others. Only with the knowledge of your pet's exact nutritional requirements and with respect for the individuality of every animal can the perfect meal be developed and produced to exactly meet your pet's needs.
Kibble: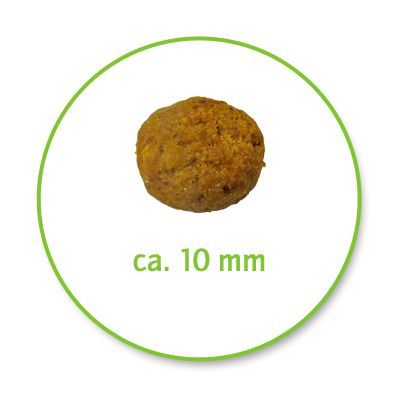 Ingredients:
Corn, poultry protein (dried), vegetable protein isolate, maize gluten, vegetable fibres, animal fat, animal protein, minerals, beet pulp, yeast, fish oil, fructo-oligosaccharides, soybean oil, grape seed and green tea (hydrolysed) (source of polyphenols), hydrolysed crustaceans (source of glucosamine), marigold extract (source of lutein), hydrolysed cartilage (source of chondroitin)
L. I. P.: protein selected for its very high assimilation.
Additives:
Nutritional additives:
Vitamin A (18,800 IU/kg), vitamin D3 (1000 IU/kg), E1 [iron] (38 mg/kg), E2 [iodine] (2.9 mg/kg), E4 [copper] (5 mg/kg), E5 [manganese] (49 mg/kg], E6 [zinc] (163 mg/kg), E8 [selenium] (0.06 mg/kg), preservatives, antioxidants.
Manufacturer's Feeding Recommendation:
Royal Canin Feline Sterilised 7+ is a complete feed for cats.
| | |
| --- | --- |
| Weight of Cat | amount per day/g |
| 3 kg | 45 |
| 4 kg | 60 |
| 5 kg | 75 |
| 6 kg | 90 |
The amounts stated here are guidelines only and should be adapted to meet your cat's specific dietary needs. Age, activity levels and environment should be particularly taken into consideration.
If your cat becomes overweight, the daily portion should be reduced in size.
Your pet should always have access to fresh water.
Analytical Constituents
| | |
| --- | --- |
| protein | 36.0 % |
| fat | 12.0 % |
| fibre | 6.1 % |
| ash | 8.0 % |
| calcium | 1.03 % |
| phosphorus | 0.8 % |
| magnesium | 0.07 % |
| arachicdonic acid | 0.06 % |
| biotine (vitamin H) | 1.8 mg |
| chloride | 1.02 % |
| choline | 2.5 mg |
| chondroitin sulfate and glucosamine | 500.0 mg |
| iron | 223.0 mg |
| moisture | 5.5 % |
| folic acid | 4.5 mg |
| iodine | 5.1 mg |
| potassium | 0.7 % |
| copper | 15.0 mg |
| L-carnitine | 100.0 mg |
| linoleic acid | 2.76 % |
| lysine | 1.29 g |
| manganese | 75.0 mg |
| sodium | 0.7 % |
| niacin (vitamin- B3) | 190.0 mg |
| omega-3 fats | 0.61 % |
| omega-6 fats | 2.9 % |
| pantothenic acid | 57.1 mg |
| plant fibers | 14.6 % |
| selenium | 0.29 mg |
| starch | 23.9 % |
| taurine | 0.21 % |
| zinc | 222.0 mg |
| vitamin A | 22.0 IU |
| vitamin B1 (thiamine) | 17.0 mg |
| vitamin B12 (cobalamin) | 0.17 mg |
| vitamin B2 (riboflavin) | 61.4 mg |
| vitamin B6 (pyridoxine) | 28.1 mg |
| vitamin C (ascorbic acid) | 300.0 mg |
| vitamin D3 | 1.0 mg |
| vitamin E (tocopherol) | 600.0 mg |
| calories that can be burned | 3.635 kcal |
| dietary fibre | 14.6 % |
| polyphenols | 150.0 mg |
| DHA fatty acid | 0.31 mg |
| lutein | 5.0 mg |
| arginine | 1.66 % |
| L-lysine | 1.29 % |
| DL-methionine | 0.93 % |
| methionine/cystine | 1.54 % |
| nitrogen-free extracts | 32.4 mg |