MERA essential Junior 2 Puppy Dry Food 4Kg
MERA essential Junior 2 Puppy Dry Food 4Kg
MERA essential Junior 2 – Complete food for large breeds after the 6th month.

Supporting the immune system
Joint protection
With reduced energy content
Recipe without wheat
With MERA protection concepts
All-round care for young dogs
Tailored towards the individual needs of your dog
That is why our recipe deliberately avoids using:
exotic meat sources, colourings, flavours and preservatives, genetically modified ingredients, sugar, soy, vitamin K3.
100% Original
14 Days Return
Cash on delivery
---
MERADOG Junior 2 Puppy Dry Food
4 kg.
MeraDog Care High Premium Junior 2 at a glance:
Premium complete feed for growing large breed dogs over 5 months old
Protein 24% / fat 12%: reduced energy and protein content for safe, regulated growth
Chondroitin & glucosamine: for strong bones and developing joints and cartilage
Beta-glucane: support a strong immune system
Wheat-free: for improved tolerance
The Mera Dog CareConcept - for all-round care of your dog:

Cellular protection: a high anti-oxidant content (vitamin C & E, beta-carotine and selenium) for optimal protection of cells and to protect against free radicals
Skin & fur: linseed, salmon oil and sunflower oil provide essential omega-3 and omega-6 fatty acids and zinc chelate, which can dramatically improve the health of skin and fur
Stable intestinal flora & easy digestion: with the help of probiotic inulin, friendly good bacteria get a boost in the intestine, at the same time counteracting the spread of pathological bacteria
Body building: high quality animal proteins from poultry, egg & fish support healthy body development and maintain muscle
Metabolism: appropriate energy content and easily digestible ingredients support an active metabolism
OdourStop Formula: a special active ingredient complex of yucca schidigera helps reduce unpleasant dog odour

100% made in Germany: top quality and produced to food standards
No colourants or preservatives
Sustainable production: all products are produced using "green energy" from 100% renewable energy sources, CO2-neutral
The Mera brand has stood for high-quality pet food for over 60 years. Years of experience, unbeatable quality and customer trust have made Mera a premium dog food supplier. High-quality, natural raw materials are the base of the Mera Care Concept: all raw ingredients come from healthy animals whose meat is meant for human consumption. These ingredients are monitored and certified by state-authorized veterinarians, to make sure to give your dog the nutrition it needs to lead a full, healthy, and happy life.
Ingredients:
Poultry protein (27%, chicken, part dried & hydrolyzed), corn, rice, poultry fat, beet pulp (sugar removed), linseed (2%), corn gluten feed, beer yeast (dried), egg powder (1%), salmon oil (0.4%), calcium carbonate, sunflower oil (0.3%), monocalcium phosphate, chicory inulin (0.2%), potassium chloride, yeast extract (dried, =0.05% beta-glucane), glucosamine (0.02%), chondroitin sulphate (0.01%).
Additives:
Nutritional dietary additives:
Vitamin A (15,000 IU/kg), vitamin D3 (1500 IU/kg), vitamin E [all rac-alpha-tocopheryl acetate] (300 mg/kg), vitamin C [ascorbyl phosphate, Ca-Na-salt] (200 mg/kg), beta-carotine (10 mg/kg), vitamin B2 (25 mg/kg), copper [copper-(II)-sulphate, pentahydrate] (12.5 mg/kg), zinc [zinc sulphate, monohydrate] (160 mg/kg), zinc [glycine-zinc chelate, hydrate] (40 mg/kg), iron [iron-(II)-sulphate, monohydrate] (200 mg/kg), manganese [manganese-(II)-sulphate, monohydrate] (25 mg/kg), iodine [calcium iodate, water-free] (2.25 mg/kg), selenium [sodium selenite] (0.35 mg/kg).
Technological additives:
Antioxidants.
Analytical constituents
protein    24.0 %
fat    12.0 %
fibre    2.5 %
ash    7.0 %
calcium    1.15 %
phosphorus    0.9 %
sodium    0.35 %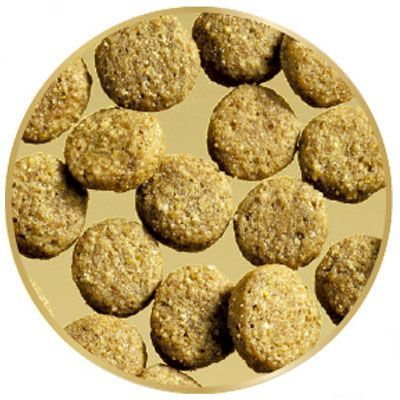 Manufacturers recommended feeding dosage in g/day:
Mera Dog Junior 2 is a complete feed.
| | | | | | | | |
| --- | --- | --- | --- | --- | --- | --- | --- |
| | End weight | 2    months | 3 months | 4 months | 11 months | 15 months | 18 months |
| Large breeds | over 40kg (medium: 55kg) | 335* | 735* | 955 | 930 | 780 | 530 |
* Feed your dog "Meradog Junior 1" until 6 months of age.
Mera Dog Junior 2 dog food can normally be fed dry, or, in the early stages of puppy growth, moistened with water or dog milk. Please make sure your dog has fresh, clean water available at all times.
The amounts listed above are guidelines only. Portions should be adapted according to your puppy's individual needs.