Royal Canin Sterilised Cats Dry Food 2kg
Royal Canin Sterilised Cats Dry Food 2kg

Key Features/Benefits:
• Weight management
• Urinary health
• High protein content

After your cat has been neutered, a change of diet may be required to ensure that the nutrients it consumes supports its somewhat altered energy needs.
ROYAL CANIN® Sterilised 37 contains a moderate level of fat when served in adequate daily rations – this helps your cat to maintain an ideal bodyweight after it's been sterilised.
What's more, ROYAL CANIN® Sterilised 37 food also contains a carefully considered balance of minerals that help to support and maintain a healthy urinary system for your cat, while the increased protein content in this food helps to maintain your cat's healthy muscle mass.
---
---
100% Original
14 Days Return
Cash on delivery
inside Cairo
---
Royal Canin Sterilised 37 Cats Dry Food 2kg
The metabolism of your cat before the sterilisation is adjusted to almost constant energy amounts. Your cat eats only as much as to cover her energy demands. After the sterilisation however, your cat loses his regulation capability, she eats more than she needs, which leads to weight gain and health problems.
Already after 48 hours after the sterilisation has taken place, your cat's ingestion rises with 20% while his energy demand declines by 30%.
Bladder stones are frequent problems for sterilized cats, since they drink less, and especially if they are overweight.
Royal Canin Sterilized 37 cat food was specially developed for sterilized cats with weight gain problems:
Balanced energy supply: through reduced fat contents (12%)
Less carbohydrates: e.g. no starch (stimulates hunger)
L-Carnitine: (100 mg/ kg) helps in the consumption and disposal of fats
Promotes healthy urinary tract: through balanced pH-levels in the urine (pH 6-6,5)
Boosts and preserves muscles: through high protein contents (37%)
For more than 40 years Royal Canin has been making your pet's health the prime focus of their work leading to the product range "Health Nutrition" amongst others. Only with the knowledge of your pet's exact nutritional requirements and with respect for the individuality of every animal can the perfect meal be developed and produced to exactly meet your pet's needs.
Kibble: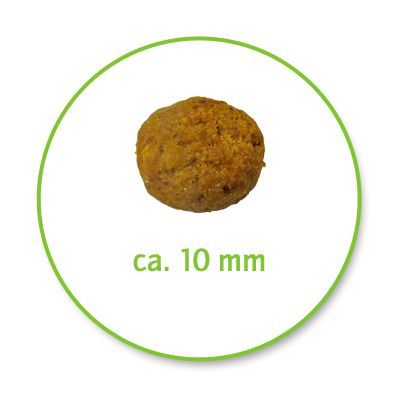 Ingredients:
Poultry meat, corn, vegetable protein, corn gluten feed, lignocellulose, animal fat, animal protein (hydrolyzed), dried beet pulp, minerals, yeasts, fish oil, fructo-oligosaccharides, soya oil.
* L.I.P.: protein selected for its very high assimilation.
Additives:
Nutritional additives:
Vitamin A (18,800 IU/kg), vitamin D3 (1000 IU/kg), E1 [iron] (35 mg/kg), E2 [iodine] (2.7 mg/kg), E4 [copper] (4 mg/kg), E5 [manganese] (46 mg/kg], E6 [zinc] (151 mg/kg), E8 [selenium] (0.06 mg/kg), L-carnitine (100 mg/kg), preservatives, antioxidants.
Producer's Feeding Recommendation in g/day pet cat:
Royal Canin Feline Sterilised 37 is a complete feed for cats.
| | |
| --- | --- |
| Cat's weight | Portion g/day |
| 3 kg | 45 |
| 4 kg | 60 |
| 5 kg | 70 |
| 6 kg | 90 |
The amounts stated here are guidelines only and should be adapted to meet your cat's specific dietary needs. Age, activity levels and environment should be particularly taken into consideration.
If your cat becomes overweight, the daily portion should be reduced in size.
Your pet should always have access to fresh water.
Analytical Constituents
| | |
| --- | --- |
| protein | 37.0 % |
| fat | 12.0 % |
| fibre | 6.1 % |
| ash | 8.1 % |
| calcium | 1.11 % |
| phosphorus | 1.0 % |
| magnesium | 0.08 % |
| arachicdonic acid | 0.06 % |
| biotine (vitamin H) | 1.8 mg |
| chloride | 0.81 % |
| choline | 2.1 mg |
| iron | 221.0 mg |
| moisture | 5.5 % |
| folic acid | 28.1 mg |
| iodine | 2.7 mg |
| potassium | 0.7 % |
| copper | 15.0 mg |
| L-carnitine | 100.0 mg |
| linoleic acid | 2.79 % |
| lysine | 1.28 g |
| manganese | 62.0 mg |
| cystine | 0.57 g |
| methionine | 0.96 g |
| sodium | 0.7 % |
| niacin (vitamin- B3) | 194.5 mg |
| omega-3 fats | 0.49 % |
| omega-6 fats | 2.95 % |
| pantothenic acid | 57.1 mg |
| plant fibers | 14.6 % |
| selenium | 0.31 mg |
| starch | 22.8 % |
| taurine | 2.4 % |
| zinc | 200.0 mg |
| vitamin A | 22.0 IU |
| vitamin B1 (thiamine) | 17.1 mg |
| vitamin B12 (cobalamin) | 0.18 mg |
| vitamin B2 (riboflavin) | 61.4 mg |
| vitamin B6 (pyridoxine) | 28.1 mg |
| vitamin C (ascorbic acid) | 200.0 mg |
| vitamin D3 | 1.0 mg |
| vitamin E (tocopherol) | 500.0 mg |
| calories that can be burned | 3.64 kcal |
| dietary fibre | 14.6 % |
| DHA fatty acid | 0.23 mg |
| lutein | 5.0 mg |
| arginine | 1.9 % |
| methionine/cystine | 1.53 % |
| nitrogen-free extracts | 31.3 mg |