Keke Multigusto Cat Dry Food 1 Kg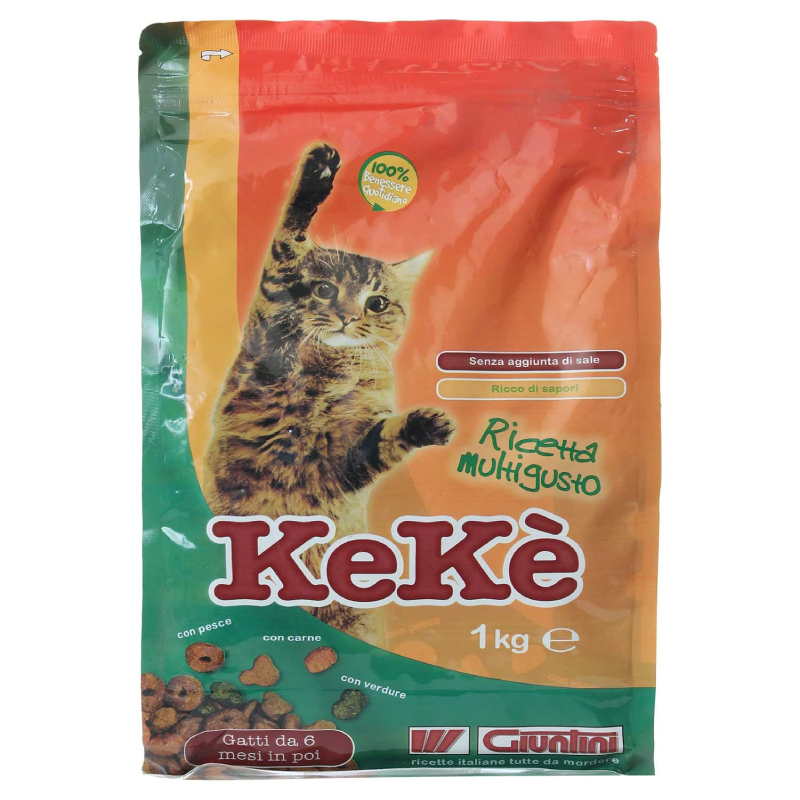 Keke Multigusto Cat Dry Food 1 Kg
Kekè Recipe Multigusto is recommended for cats with superfine palates from the sixth month onwards.The nutritive elements are of high biological value and guarantee the growth and maintenance of all breeds of cats.
The croquettes contain meat, fish, vegetables, Omega 3 and Omega 6 and are integrated with essential amino acids such as Taurine, Lysine and Methionine.
Kekè multigusto recipe is a food rich in flavors and does not contain added salt.

Composition
Cereals, Meats and derivatives (min 15%), vegetable protein extracts, by-products of vegetable origin, oils and fats, fishes and by-products of fish (min 4% in crunchy fish), vegetables (min 4% in crunchy foods) with vegetables), yeasts, mineral substances.

Analytical components
Crude protein: 30.0%; Raw oils and fats: 10.0%; Crude fiber: 2.4%; Crude ash: 8%; Lysine: 1.4%; Methionine: 0.5%; Taurine: 730 mg / kg; Soccer: 1.3%; Phosphorus: 1.1%; Sodium: 0.3%.

Nutritional additives
Vitamin A: 22,000 IU / kg; Vitamin D3: 1,000 IU / kg; Vitamin E : 120 mg / kg; Iodine: 0.8 mg / kg; Zinc: 20 mg / kg.
Technological additives: Antioxidants
Organoleptic additives: Dyes

Instructions for correct use
The crunches can be served either dry or moistened with water.
If given dry, always leave a fresh and clean bowl of water at the cat's disposal.
Recommended daily rations
From 50 to 90 grams of product divided into 2 meals.
For lactating cats increase the dose up to a maximum of 180 grams per day.
100% Original
14 Days Return
Cash on delivery
---